In a recent tweet, Ben "BitBoy" Armstrong, a controversial figure in the crypto community, stirred discussions with a noteworthy projection for the future price of XRP. The excitement began when Evan Luthra, an angel investor and Forbes 30 under 30 award winner, tweeted, "XRP just surpassed BTC trading volume. It's now the highest trading crypto asset. What's your price target for Ripple?"
Will XRP Rise to $35?
BitBoy's response can be classified as very bold when he said "$15 is reasonable, I think over 18 months or so. If they IPO and time it right, could be up to $35 imo. At the heart of Armstrongs projection is his belief in the long-term growth potential of XRP, with the projected price of $15 signifying a whopping 1,720% increase from its current price.
This optimism may be bolstered by the recent legal victory by Ripple which has provided some clarity for XRP. Remarkably, BitBoy's enthusiasm didn't stop at $15, as he suggested that XRP's price could potentially reach $35 if Ripple proceeds with an Initial Public Offering (IPO) and times it strategically. Achieving this target would necessitate a staggering surge of 4,200%.
The rumors about an upcoming IPO of Ripple are not new. CEO Brad Garlinghouse hinted at the possibility already before the SEC lawsuit. It's likely the agency threw a wrench in the company's plans.
Nevertheless, it is crucial to approach such forecasts with caution, as BitBoy himself acknowledged the inherent unpredictability of the crypto market. Cryptocurrencies are renowned for their price volatility and susceptibility to various external factors, making accurate predictions a challenging task. BityBoy added:
Make no mistake… it may not go that high… but XRP IS breaking an all time high this cycle save some sort of pointless, vindictive SEC appeal. (Low chance)
Also, the influencer's optimistic outlook on XRP's potential is not entirely new. In April, he had already identified XRP as his top altcoin pick for the next bull run, contingent on a favorable outcome in the SEC lawsuit. A positive resolution would provide the asset with much-needed legal and regulatory clarity, potentially acting as a further catalyst for growth.
In another tweet the influencer reacted to a Twitter user who stated "Everything is breaking ATH this cycle." Armstrong answered that he doesn't think so, revealing his picks for such altcoins, "Solana, Dogecoin, Shiba all potentially on that list. Previous top 10 coins that didn't make new ath's last cycle: NEM, NEO, Dash, BCH, XRP (for good reason) etc. Don't fall into the same trap I did last cycle. Everything doesn't perform."
Armstrong Is Not Without Controversy
David Schwartz, Chief Technology Officer (CTO) of Ripple, called the BEN coin project a 100% rug pull two months ago. In response to a tweet, Schwartz wondered if the rug pull would happen in the future or if Bitboy's involvement in the project was a rug pull. Schwartz concluded that he believed in both scenarios:
Do you think the rug will be pulled in the future? Or do you think Bitboy joining the team is itself a rug pull? Because I definitely agree with either one.
In addition, BitBoy was accused of defrauding or misleading his 1.44 million YouTube subscribers in 2022, as several pieces of evidence surfaced suggesting that he did not disclose the paid advertising content in his videos.
At press time, the XRP price stood at $0.8219, up 4.6% in the last 24 hours.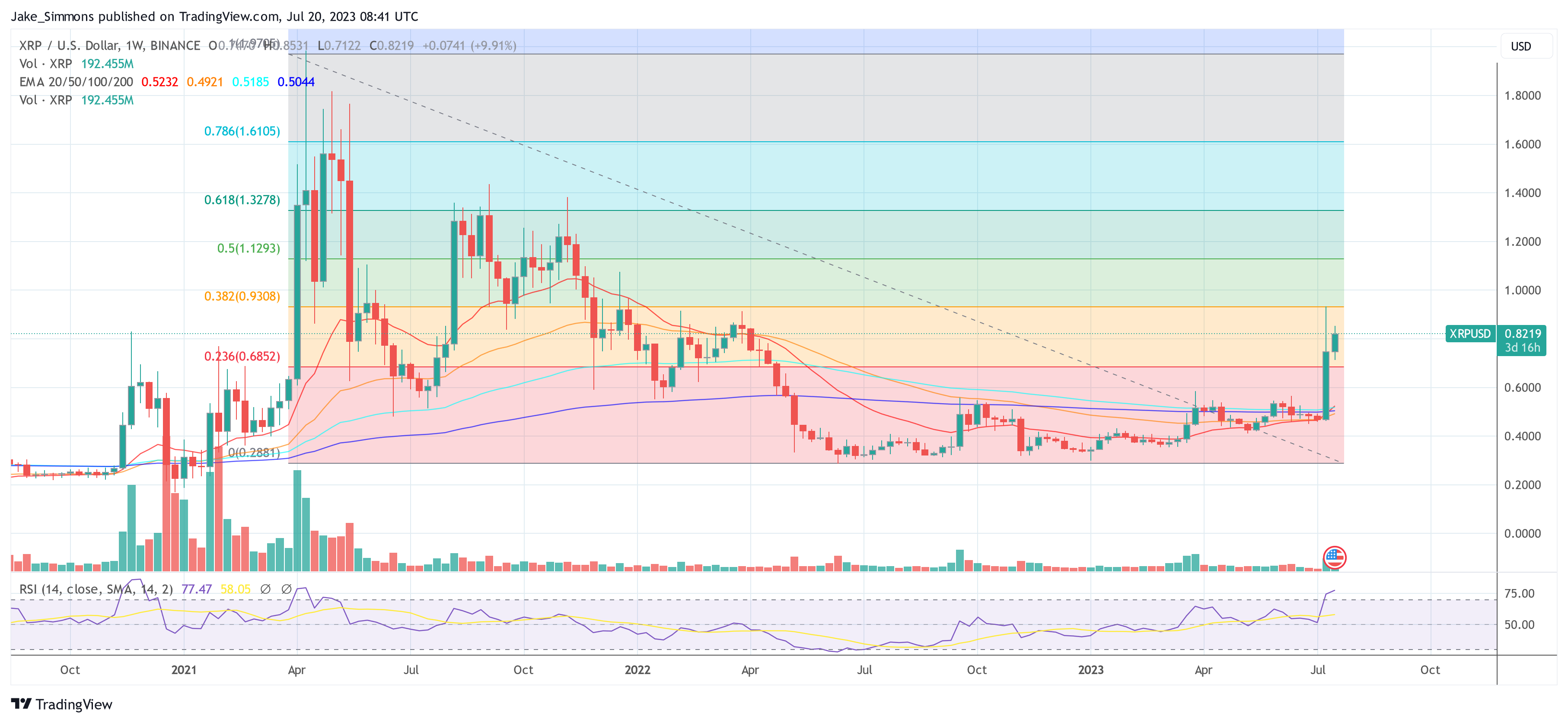 Featured image from Exness, chart from TradingView.com