Conflux (CFX) has recently captured the attention of the cryptocurrency market with its impressive growth. In just one week, Conflux has experienced a remarkable surge, placing CFX among the top-performing altcoins of the moment and positions it as a legit investment opportunity for crypto enthusiasts and traders alike.
With the cryptocurrency market known for its volatility and unpredictability, the significant surge in Conflux's value raises questions about the driving factors behind its recent growth.
What sets Conflux apart from other altcoins, and what does this surge signify for its future prospects?
Conflux: Riding The Wave With Ecosystem Expansion
Conflux (CFX) has emerged as a prominent contender in the ever-evolving cryptocurrency market, particularly in recent times, as its value continues its upward trajectory. At the time of writing, the altcoin boasts a current price of $0.260079, and has experienced a noteworthy 24-hour rally of 1.5%.

CFX impressive weekly climb. Source: Coingecko
However, what truly sets Conflux apart is its remarkable bounce-back over the past seven days, reaching an astounding 45.8% increase, solidifying its position as one of the leading altcoins in terms of growth.
The rally in CFX value aligns with the expansion of Conflux's ecosystem, hinting at a promising future for the blockchain network.
📣 Conflux is partnering with @dappOS_com 🤝

Leveraging dappOS' innovative solutions, Conflux dApp users will experience simplified workflows and seamless cross-chain execution without incurring additional gas fees. pic.twitter.com/tbEuPk429n

— Conflux Network Official (@Conflux_Network) June 21, 2023
Notably, Conflux has recently unveiled a significant partnership with dappOS, a member of the Binance Labs Inc program. dappOS prides itself as a Web3.0 operating protocol unifier, and this collaboration carries numerous mutual benefits for both entities. 
As of today, CFX has a market cap of $766 million. Chart: TradingView.com
However, the most noteworthy takeaway for Conflux holders is the expansion of the ecosystem, which promises to significantly enhance the utility of the protocol and CFX tokens in the long run.
CFX Market Cap Reaches $766 Million
With its current market cap hitting $766 million, Conflux now sits comfortably at rank 78. However, the question on everyone's mind is whether Conflux has what it takes to break into the coveted Crypto Top 50 in the days to come.
As Conflux continues its upward trajectory, the possibility of entering the Crypto Top 50 becomes increasingly plausible. The recent climb in value and expanding ecosystem have undoubtedly contributed to its rise in market capitalization.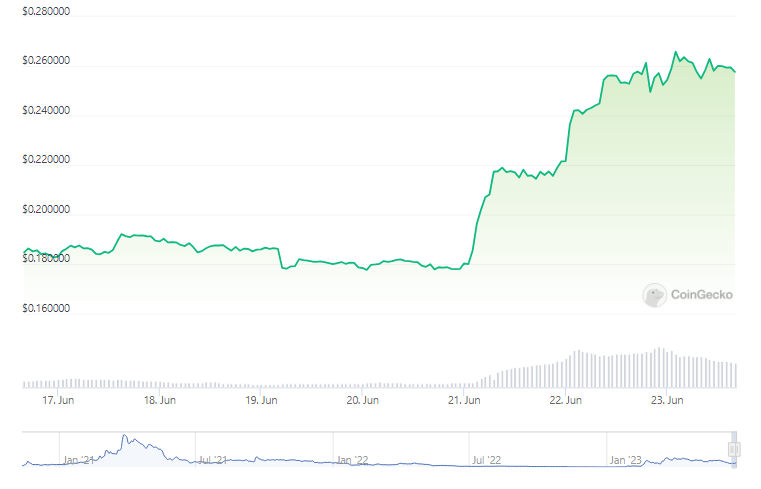 CFX staying strong in the last week. Source: Coingecko
The strategic partnership with dappOS is poised to bolster Conflux's utility, attracting more users and investors to the platform.
Breaking into the Crypto Top 50 would be a significant milestone for the crypto, granting it heightened visibility and access to a broader investor base. The competition within the top echelons of the cryptocurrency market is fierce, with numerous established projects vying for higher rankings.
(This site's content should not be construed as investment advice. Investing involves risk. When you invest, your capital is subject to risk).
Featured image from BTCC