Today's interest rate decision by the U.S. Federal Reserve (Fed) and the following press conference by the Federal Open Market Committee (FOMC) could make up for this year's most important day so far for the Bitcoin price.
In March, the Fed had raised the benchmark interest rate by another 0.25 basis points (bps). At the time, central bankers were leaving their next steps open. Fed Chairman Jerome Powell clarified that further rate hikes "may be appropriate" and that the decision "will be data dependent."
25 Bps Expected Despite Strong Headwinds
Most recently, the Consumer Price Index (CPI) surprised on the upside with an annualized decline to 5.0% (from 6.0%), but core inflation is proving to be very sticky. Nevertheless, the market expects today's 0.25 basis point rate hike to be the last in this cycle.
According to the CME's FedWatch tool, 89% of market participants believe the Fed will make this move today, despite facing strong headwinds from U.S. politics yesterday. Democratic-led members of Congress called on the Fed to pause rate hikes.
Ten senators and representatives, led by Senator Elizabeth Warren, expressed concern about the Fed's monetary policy strategy in a letter to Fed Chairman Jerome Powell on Monday and urged avoiding "a recession that kills jobs and crushes small businesses."
Also arguing against continued aggressive policy is the fact that the fastest rate hike cycle in Fed history has caused deep cracks in the U.S. banking system. Following the fall of Silicon Valley Bank, Signature Bank and First Republic Bank, numerous other regional U.S. banks plunged deep into negative territory yesterday.
US Regional Bank Stock This Year:

1. HomeStreet, $HMST: -75%
2. PacWest, $PACW: -71%
3. Metropolitan Bank, $MCB: -64%
4. Zions Bank, $ZION: -51%
5. Western Alliance, $WAL: -47%
6. KeyCorp, $KEY: -45%
7. HarborOne, $HONE: -39%
8. Valley National, $VLY: -35%
9. Truist, $TFC: -33%…

— The Kobeissi Letter (@KobeissiLetter) May 2, 2023
In addition, the recent collapse of First Republic Bank exacerbates the credit crunch: a decline in bank lending due to a sudden tightening of bank deposits. As the AP reported yesterday, assets are worth less than liabilities at half of the 4,800 U.S. banks.
"It's spooky. Thousands of banks are underwater," said Professor Amit Seru, a banking expert at Stanford University. "We shouldn't pretend this is just about Silicon Valley Bank and First Republic. A large part of the U.S. banking system is potentially insolvent."
That's another reason the market continues to call Powell's bluff. According to CME FedWatch, the market believes the Fed will not only pause after today's meeting, but also cut rates twice this year – unlike the Fed, which in its latest dot plot forecasts a terminal rate of 5.0% by the end of the year.
Bitcoin Analysis: How to Prepare
A 25 basis point rate hike is already priced in by the market and is not expected to hammer the Bitcoin price. When the interest rate decision is announced at 2 p.m. EST (8 p.m. CET), no major volatility should be expected, which will be coming with the press conference. The only exception is a big surprise: an early pause. However, this scenario seems extremely unlikely.
Due to this, all eyes will be on the FOMC press conference at 2:30 pm EST (8:30 pm CET). Probably the most important statement from Powell will be whether the Fed will pause interest rates in June. If so, the Bitcoin market is expected to immediately react bullish. If Powell denies this statement or states that it depends on the data, it would be bearish.
Another focus will be on the question of interest rate cuts later this year. Especially if Powell emphasizes that the Fed will keep interest rates high until 2024, it would be rather bearish for Bitcoin. The question will be whether Powell or the market is wrong, and who will fold first.
Other important statements are expected on the US banking crisis and expectations of a soft landing (recession). Both of these topics have the potential to move the Bitcoin price.
Meanwhile, traders should be careful with the initial move, as it often initially goes in the wrong direction. As analyst Ted (@tedtalksmacro) explained, hedges are typically unwound shortly after the announcement. Usually there is a short impulse up/down when these positions are unwound, and then "real" move occurs when the positions are bought back, which is why the price then falls/rises again.
Once the short interest is removed, the spot market takes control of the actual move. "This is where you want to follow what spot CVDs are doing, and if it's different from how perps are moving. […] following the press conference we should be able to gauge things more clearly as hedges will be unwound," advises Ted.
At press time, the Bitcoin price stood at $28,623.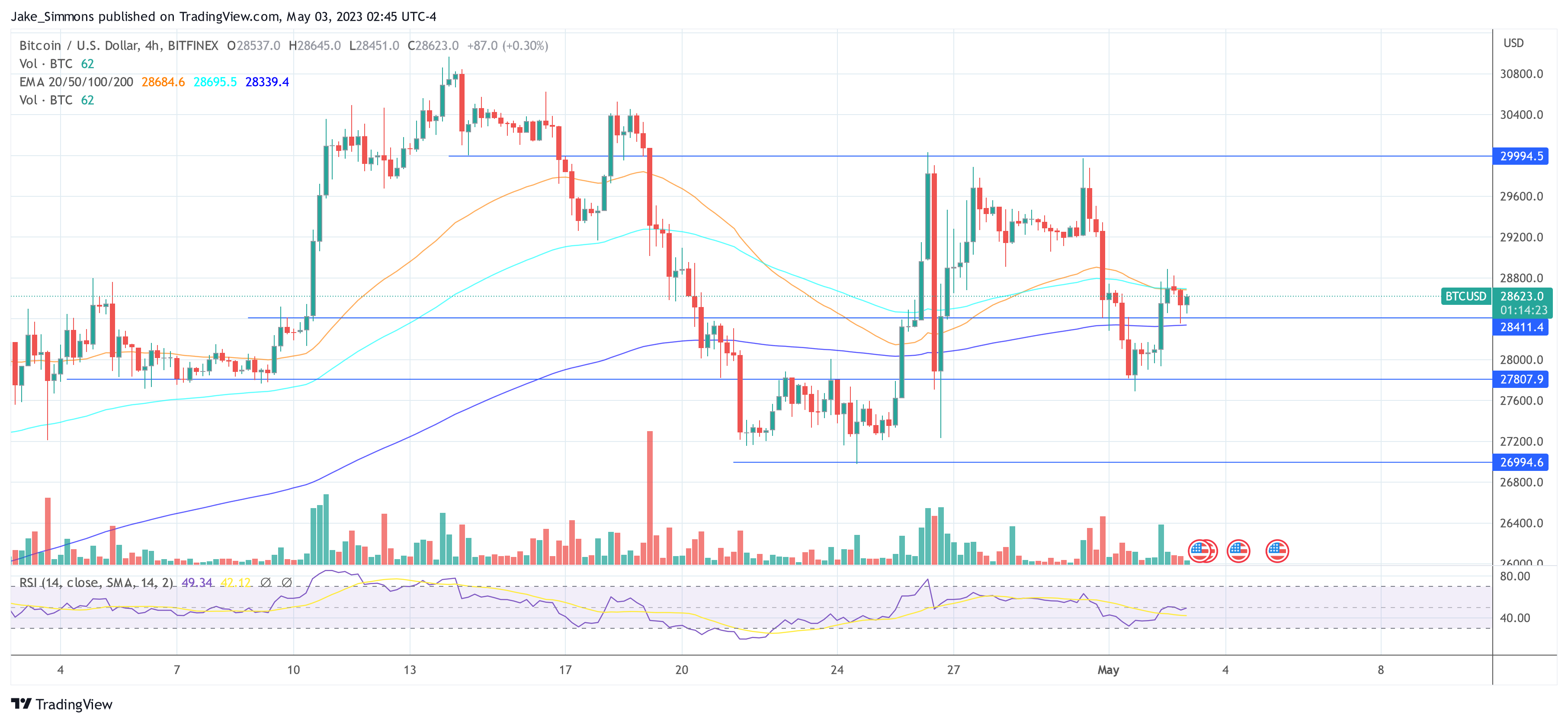 Featured image from iStock, chart from TradingView.com