Santiment has broken down how the recent action in the Bitcoin price may have been affected by the prevailing sentiment in the market.
Trends In Bitcoin Social Volume May Have Influenced The Price Recently
As the on-chain analytics firm Santiment explained, BTC generally moves in the direction the crowd isn't expecting. The relevant indicator is the "social volume," which measures the total number of social media text documents discussing a given term or topic.
The social media text documents here refer to a collection of social media posts collected by Santiment that have been sourced from various popular platforms like Twitter, Reddit, and Telegram.
This indicator only checks whether a text document in this collection mentions the term at least once; posts with more than one mention of the topic are still given the same weight as a document that only does it once.
To use this indicator for pinpointing discussions related to market sentiment, the analytics firm first found the social volume of Bitcoin and cryptocurrency in general. Then it filtered it for some specific terms that refer to the investors' mentality.
Here is a chart that shows the trend in the Bitcoin social volume for negative and positive sentiments over the last week: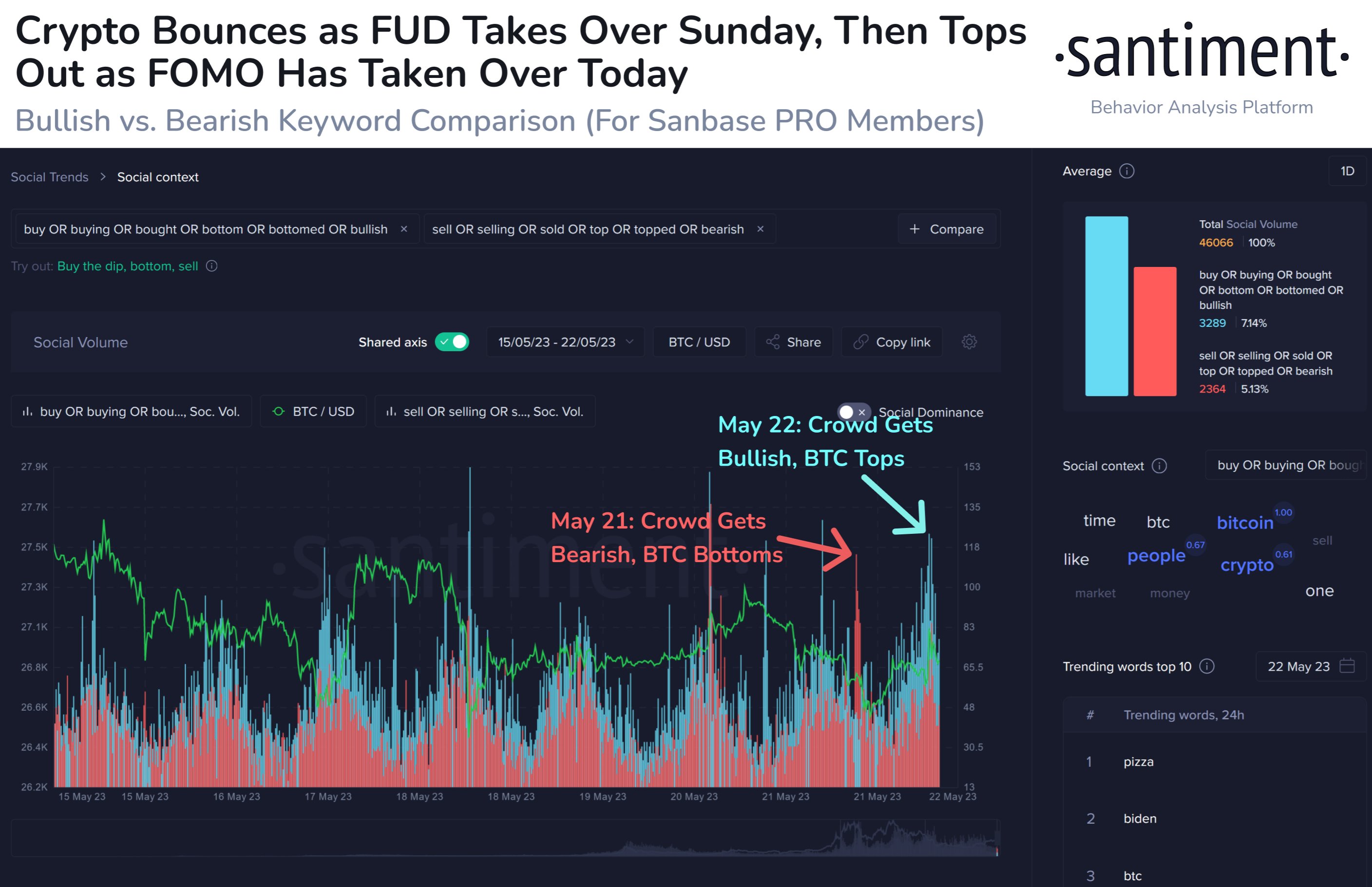 The trend in the two market sentiments for BTC over the last few days | Source: Santiment on Twitter
The terms used here to separate the discussions related to positive sentiment are buy, bullish, and bottom. Similarly, sell, top, and bearish are some of the terms that have been used for finding negative talks.
In the graph, Santiment has marked the pattern that the social volumes of these sentiments followed during the past couple of days. On the 21st, following the decline in the asset's price, the indicator's value for the negative mentality observed a large spike.
This means that social media discussions had gotten quite bearish when this price drop occurred. However, once this mentality shift happened, the cryptocurrency saw a local bottom formation.
Over the next day, the coin saw some rise and broke back above the $27,000 level. While this rise was taking place, the sentiment again turned positive.
By the time the price went above $27,000, though, the social volume of the greedy sentiment had reached pretty high values. Like when the negative sentiment had become overwhelming, the bottom had formed, a top occurred following this positive mentality spike.
Historically, the Bitcoin market has generally always moved like this; whenever the sentiment becomes too unbalanced towards any particular side, the market tends to show moves opposite to this sentiment held by the majority.
BTC Price
Since Santiment posted its analysis and the flush in the positive sentiment, Bitcoin has again risen above the $27,000 mark. When writing, the coin is floating around $27,300, up 1% in the past week.
BTC has observed an uplift during the past day | Source: BTCUSD on TradingView
Featured image from Thought Catalog on Unsplash.com, charts from TradingView.com, Santiment.net