In a jaw-dropping discovery that has sent shockwaves through the Shiba Inu community, a dormant whale has emerged from hibernation. This anonymous early investor, who holds a staggering 10.15% of the total SHIB supply, has recently made significant moves, causing speculation within the community.
The whale, identified by his address "0x140", has been dormant for a staggering 157 days, but has now reawakened with a series of unprecedented transactions. In a span of just 24 hours, the whale distributed a whopping 4 trillion SHIB tokens, equivalent to a staggering $30 million, across nine new wallets.
Detailed data from Etherscan confirms the veracity of the whale's recent movement. The whale distributed precisely 4,000,000,000,107 SHIB tokens across nine new wallets within a 24-hour period. The transfers began with a small amount of 107 SHIB to a specific address, followed by subsequent transfers of 500,000,000,000 SHIB each to eight separate addresses.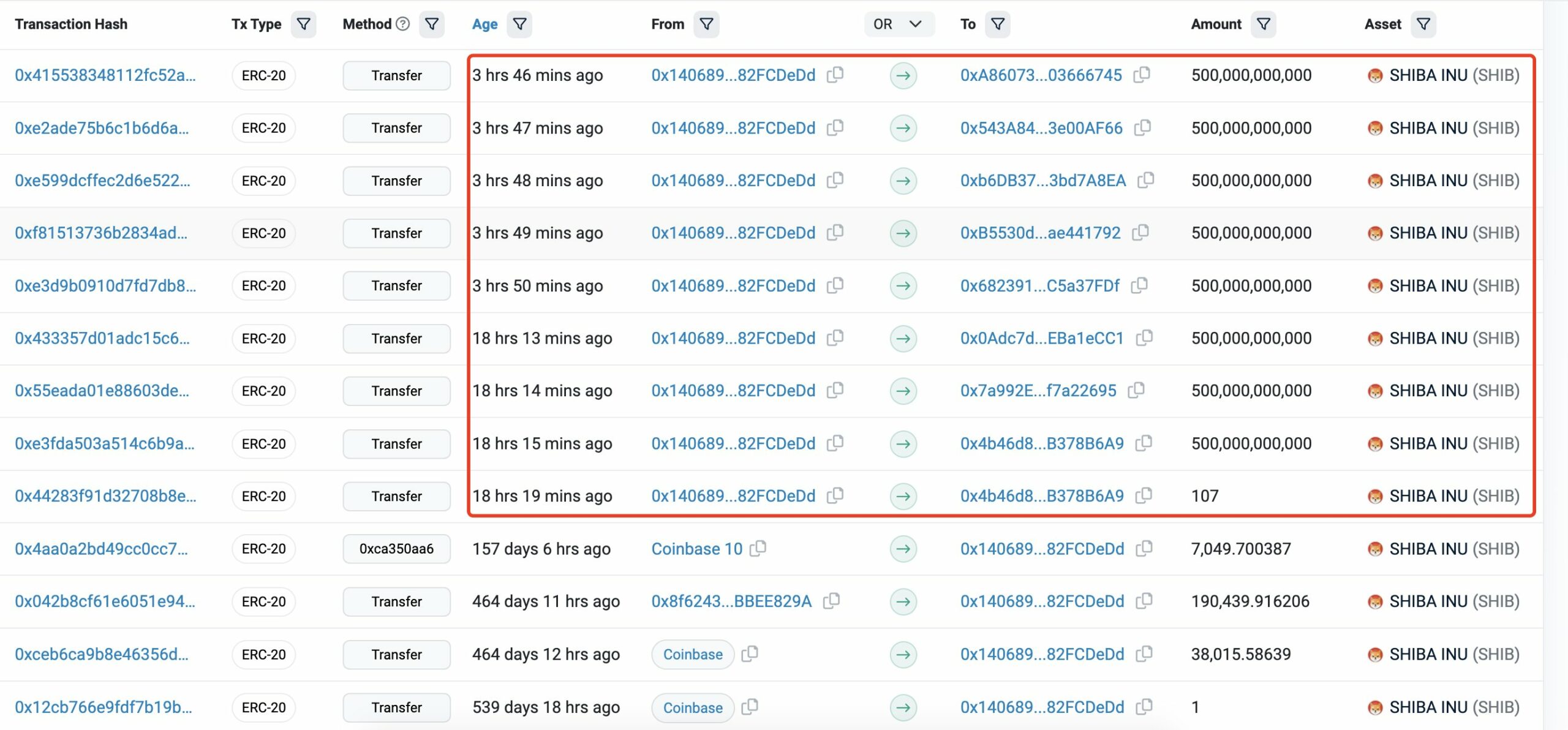 Shiba Inu Whale Provides A Shock
This unexpected flurry of activity has captured the attention of analysts and on-chain experts. Lookonchain, a prominent crypto analytics expert, noted that this whale is likely the largest holder of SHIB, with a current holding of 101.47 trillion SHIB tokens, worth an astonishing $756 million. Furthermore, this early investor has a total of 23 wallets where the SHIB holdings are distributed.
This colossal whale's involvement in the SHIB ecosystem dates back to its early days. Spot On Chain, an on-chain analyst, revealed that the whale initially acquired a staggering 103.33T SHIB with a mere 38 ETH ($14,000) during its inception. Riding the wave of SHIB's meteoric rise, this investment once reached a staggering valuation of $8.16 billion.
In 2021, during the infamous SHIB price pump, the whale made strategic moves, reaping significant profits. Spot On Chain revealed that the whale exchanged approximately 1.9 trillion SHIB across various platforms, including Binance, Coinbase, and MEXC, at an average price of $0.00000969 in July 2021. This savvy maneuver resulted in an estimated profit of $18.49 million.
Notably, the whale also executed a substantial sale of 603 billion SHIB tokens for 2,411 ETH, equivalent to $9.6 million at the time. Additionally, the whale deposited a staggering 1.25 trillion SHIB, worth $8.77 million, into Coinbase during the same year.
SHIB Breakout Not Confirmed Yet
The recent flurry of activity by this influential whale has left the SHIB community speculating about the intentions behind these transactions. With the distribution of such a massive amount of SHIB tokens, there are growing concerns and uncertainties among SHIB proponents.
As the market keeps a keen eye on this whale's next moves, it is evident that the impact of this early investor cannot be underestimated. Holding 10% of the total SHIB supply, this whale wields significant influence over the market and has the potential to trigger substantial fluctuations in SHIB's price.
At press time, the SHIB price stood at $0.00000752. The breakout from the downward trend (yellow circle) that has been in place since the beginning of February has thus still not been confirmed. Also, the longer the price does not make a decisive move towards the 23.6% Fibonacci retracement level at $0.0000083, the more likely it becomes that the SHIB price will remain in bearish territory.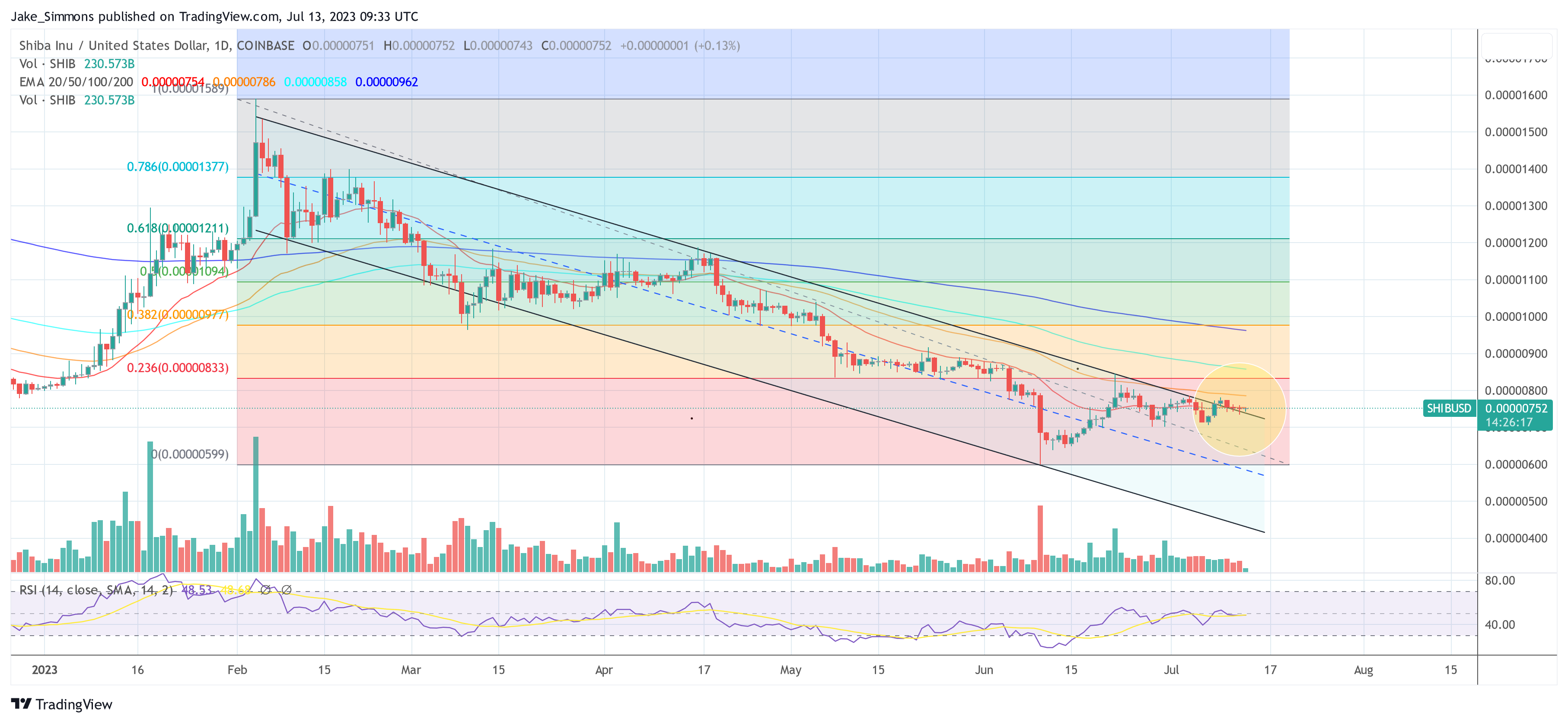 Featured image from Kripto Piyasası, chart from TradingView.com