Sui network's persistent growth propelled it into the league of the top 100 cryptocurrencies by market capitalization, but the value of the SUI token has been on a downward trajectory. Sustaining this heightened market position presents difficulties, as demonstrated by the recent performance of the Sui token's value. 
Sui token is currently priced at $0.591478, according to CoinGecko, with a 0.3% drop in the past 24 hours and a 6.0% decrease over the past seven days.
The Sui network experienced a big surge, reaching unprecedented heights before undergoing a sharp decline recently. Have other indicators and the token's valuation borne the impact of this plunge?
Sui Network's Transaction Surge And Diverging Trends
A recent report indicates an interesting pattern in the Sui network's daily transaction block numbers, which commenced in early July. Starting at around 200,000, the transaction count surged to 500,000 and dramatically jumped to over 6 million within a day.
This peak brought the total transactions to an impressive 65.8 million, accompanied by an all-time high for the platform and its blockchain.
SUI is currently trading at $0.59 according to the daily chart on TradingView.com
However, the excitement was short-lived as the transaction count quickly settled at approximately 720,000. Interestingly, the network's activity volume showed a minor decline, stabilizing at about $2 million.
The Total Value Locked (TVL) took a different trajectory. Despite the transaction surge, the TVL demonstrated a subtle upward trend, currently at around $14 million, according to DefiLlama.
Assessing Sui Token's Stability And Prospects
The Volatility Gauge evaluates recent trends, allowing it to form a score that reflects the current market dynamics rather than being skewed by isolated fluctuations. This methodology provides a more comprehensive understanding of the token's price behavior.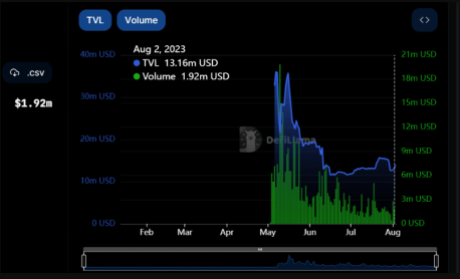 SUI total value locked. Source: Defillama
As noted in a separate analysis, the SUI token demonstrates a moderate level of volatility. A low score on the Risk/Reward Gauge complements this average volatility.
This pairing indicates that while the token experiences moderate price swings, it is also safeguarded against undue price manipulation. This confluence of factors presents a balanced perspective on the token's risk and potential rewards.
Related Reading: Shiba Inu Price Poised To Reach $0.01 With Shibarium Upgrade, These CEOs Say
Looking ahead, the Sui token's price is favorably poised. The support level is thoughtfully established at $0.568754, which signifies a point where downward pressure could find a halt.
On the other hand, the resistance level is strategically set at $0.606822, indicating the end at which selling pressure might increase.
This positioning offers Sui token an advantageous space to navigate before encountering significant selling pressures. It suggests that the token has room to flourish within this range, indicating a positive trajectory soon.
(This site's content should not be construed as investment advice. Investing involves risk. When you invest, your capital is subject to risk).
Featured image from Ethereum World News