A sequence of unfortunate developments has struck BALD meme coin enthusiasts, as the once-shining (no pun intended) digital asset has experienced a jaw-dropping 96% decline in trading volume. 
The root cause of this worrying situation stems from the withdrawal of more than 6,000 Ether in liquidity from the meme coin's smart contracts, an action that has cast a foreboding cloud over the asset's prospects.
Removing such a substantial amount of liquidity had an immediate and profound impact, triggering an abrupt and steep decline in BALD's price.
Currently, the price of BALD stands at $0.01101692, according to CoinGecko data. Within the past 24 hours, BALD has experienced a significant price decline of 57.31%.
Explosive Rise And Suspicion Surrounding BALD Coin
BALD coin underwent an unprecedented surge in value within a single day immediately after its launch. However, this meteoric rise was soon followed by a sequence of perplexing actions that cast a shadow of doubt over the project's legitimacy.
The vigilant eyes of the Onchain Intrigue Telegram Channel turned towards BALD's wallet activities (see image below) after a sudden withdrawal of liquidity. This subsequent investigation brought to light a set of alarming indications commonly associated with a phenomenon known as a "rug pull."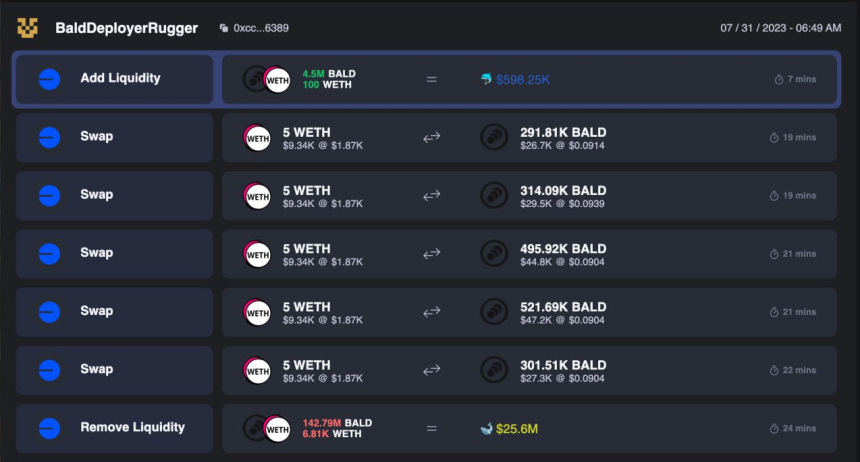 Source: 

Onchain Intrigue Telegram Channel
In the intricate world of cryptocurrencies, a rug pull constitutes a type of scam in which the creators or promoters of a token vanish after attracting investment, leaving participants high and dry with their funds pilfered.
Rug pulls have earned a notorious reputation in cryptocurrency, particularly in decentralized finance (DeFi). These incidents transpire when developers execute an elaborate ruse, projecting an image of authenticity around their project, only to swiftly abscond after removing the liquidity, leaving investors in the lurch.
Darkening Clouds Of Skepticism
Compounding the unease, recent speculation has arisen linking BALD coin to Alameda, a prominent quantitative cryptocurrency trading firm. While these connections are yet to be substantiated, the mere existence of such ties threatens to deepen the ongoing crisis surrounding BALD.
Bitcoin holds at $29K on TradingView.com
This potential association also raises pertinent questions about the community's trust in analogous projects, further amplifying the sense of uncertainty that shrouds the cryptocurrency landscape.
Related Reading: Binance Coin (BNB) Price Gears Up For A 10% Upswing – Here's How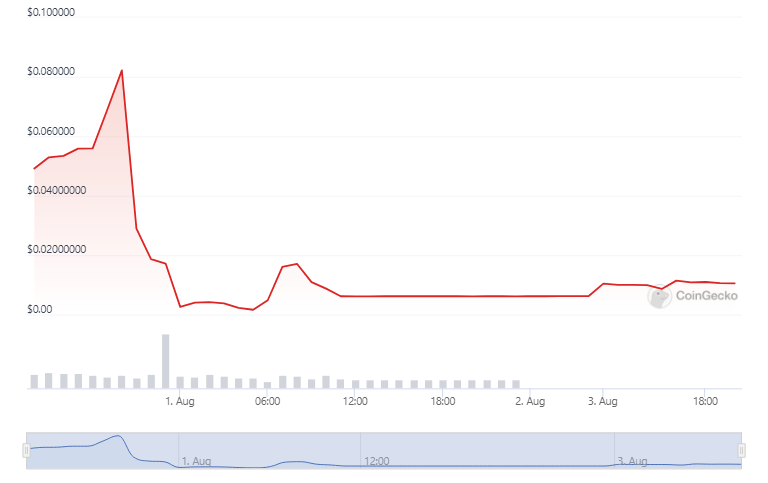 BALD seven-day price action: Source: Coingecko
Meanwhile, after the troubles that hit BALD, there's a new start in sight. A new BALD token has been introduced; this time, it's designed with locked liquidity. This move is meant to bring back hope and trust to the project.
It shows that the people behind BALD are determined to make things right and regain the confidence of those who believed in them.
(This site's content should not be construed as investment advice. Investing involves risk. When you invest, your capital is subject to risk).
Featured image from Yahoo Finance