The Bitcoin price continues to compress around its current levels, but during today's trading session, there was an uptick in volatility. The rise in this metric could hint at a shift in the narratives influencing BTC's price action.
As of this writing, Bitcoin trades at $29,300 with sideways movement in the last 24 hours. In the previous seven days, the cryptocurrency saw similar action pushing other assets in a similar direction or no direction as the sector flatlines in the short term.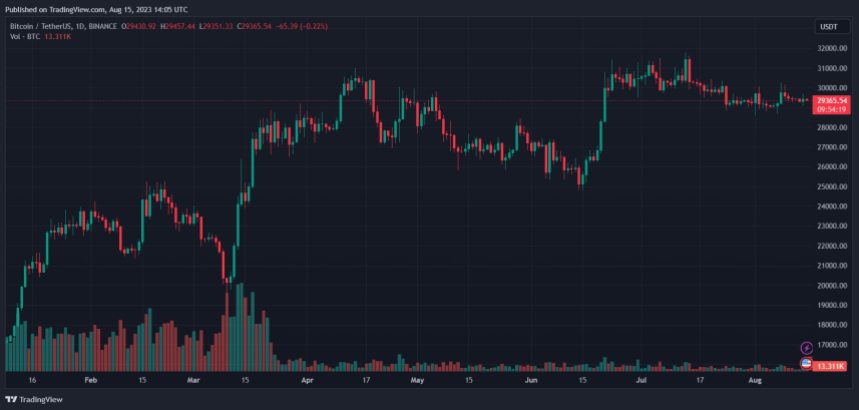 Bitcoin ETF Becomes Dominant Narrative In Crypto Market?
In a recent market update, crypto analysis firm Blofin pointed to an uptick in market sentiment. Coupled with a rise in volatility, market participants are reacting to the potential announcement from the US Securities Exchange Commission (SEC) around a spot Bitcoin ETF.
The Commission is set to rule on asset manager Grayscale's petition to transform their Grayscale Bitcoin Trust (GBTC) into an ETF. The decision was supposed to come out today, Blofin stated, but it could drag on until this Friday, August 18th.
If the SEC postpones the decision for any reason, as it did with Ark's petition, the market will likely keep moving sideways. In that sense, development around the ETF decision is gaining strength over macroeconomic dynamics.
This change in dynamics is more evident in the derivatives sector, with options traders becoming more bullish for the coming months. Blofin noted the following on this dynamic:
(…) The news above (on the Bitcoin ETF approval) has promoted the rapid rise of short-term bullish sentiment and uncertainty in the market (…). It appears that investors are waiting for good news related to the spot Bitcoin ETF.
And "smart" traders are positioning accordingly. The report notes that the open interest for options contracts is skewed to the call (buy) side.
As data from the derivatives platform Deribit shows, traders are betting that the price of Bitcoin will rise above $30,000 by the end of August or September. As seen on the chart below, 57,000 contracts will expire by the end of this month and 90,700 next month.

Coupled with the rise in Open Interest skewed to the call side, the chart above shows that traders are betting on a Bitcoin rally above $30,000 to $40,000. The spot BTC ETF decision will move the market, particularly at the end of August and September.
Cover image from Unsplash, chart from Tradingview