Litecoin (LTC), the altcoin often dubbed as "silver to Bitcoin's gold," has found itself caught in the downward spiral of the cryptocurrency market, mirroring the struggles of its larger counterpart.
While LTC's association with Bitcoin has long been a double-edged sword, the recent price crash is putting on the spotlight the intricate interplay between these digital assets.
As Bitcoin (BTC) grapples with a precipitous decline, currently trading below $26,000, the impact reverberates across the broader crypto landscape. LTC, trading at $64.15 according to CoinGecko, has encountered a 1.5% drop over the last 24 hours, contributing to a week-long slump of 23.2%.
Litecoin Loses Grip On The $70 Handle

LTC price action on a weekend. Source: Coingecko
This downturn prompted a cascade of over $1 billion worth of position liquidations within a 24-hour window, a testament to the market's heightened volatility.
In the midst of intraday trading, Litecoin momentarily dipped to the $60 mark before staging a recovery. This decline has pushed LTC to year-to-date lows, ominously edging toward the lows witnessed in December 2022.
Yet, understanding the dynamics behind LTC's struggle requires delving into its intricate relationship with the alpha coin
Litecoin Price Dependence On Bitcoin
The intrinsic connection between Litecoin and Bitcoin has both bolstered and hampered LTC's journey. Historically positioned as a complementary alternative to Bitcoin, Litecoin carved its niche by embracing faster transaction speeds and a different mining algorithm.
However, the symbiotic relationship between these two cryptocurrencies also makes Litecoin susceptible to Bitcoin's market movements.
LTC market cap reached $4.7 billion on the weekend chart: TradingView.com
Litecoin's recent setback underscores this interdependence. Analysts contend that Litecoin's price trajectory has often mirrored Bitcoin's, with downturns accentuated by its role as a secondary asset.
While Litecoin offers distinct utility, its fate remains intertwined with the broader market sentiment and Bitcoin's performance. This connection has led to LTC's price behavior echoing Bitcoin's, both in its drops and potential recoveries.
Navigating The Path Ahead: Key Levels To Watch
As Litecoin navigates this challenging terrain, crucial support and resistance levels come into play. Analysts are closely monitoring a potential consolidation of losses within the range of $56 to $70, contingent on Bitcoin's further losses. The $70 mark represents a pivotal point, indicating bullish intent if breached, and an edge for the bulls only above $75.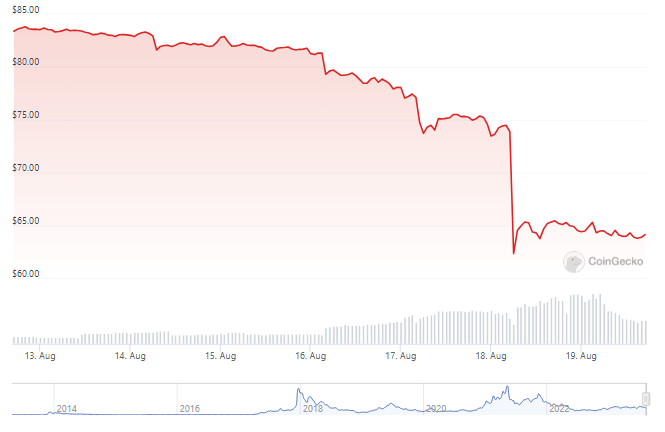 LTC seven-day price action. Source: Coingecko
Key resistance levels lie at $70 and $78.5, acting as hurdles on LTC's potential recovery journey. Conversely, essential support levels rest at $50.5 and $42, indicating the critical junctures that could either exacerbate LTC's downturn or potentially pave the way for resilience.
As the market continues to evolve, the lessons from these fluctuations offer valuable insights into the evolving nature of digital assets and the nuanced relationships that underpin their value fluctuations.
(This site's content should not be construed as investment advice. Investing involves risk. When you invest, your capital is subject to risk).
Featured image from Coin Insider