PEPE, the meme coin that has garnered a cult following in the cryptocurrency world, made headlines once again as an anonymous whale, rumored to go by the name "Alleged Mattfurie," executed a huge transaction. 
According to a new PEPE price update,  this enigmatic figure exchanged a staggering 726 billion PEPE tokens for approximately 345.7 Ethereum (ETH). What's more, the acquired ETH swiftly found its way to the Coinbase exchange, adding intrigue to an already sensational move.
As of the latest data from CoinGecko, PEPE is currently valued at $0.00000078, with a 24-hour slump of 2.8% and a marginal seven-day loss of 0.1%. However, the impact of this whale behavior is sending ripples through the meme coin's market dynamics.
PEPE's price saw a brief 3.48% rise on September 7th, but it quickly dropped back to $0.0000007857. This likely indicates that a significant PEPE holder sold their 762 billion tokens at a loss.
PEPE Price Conundrum: Caught In A Triangle
PEPE's journey in the world of cryptocurrencies has been nothing short of remarkable. It has not only become a symbol of internet culture but also a fascinating experiment in the world of decentralized finance. 
PEPEUSDT trading at $0.00000078 on the weekend chart: TradingView.com
While the PEPE token continues to capture the imagination of traders, its price appears to be tightly ensnared within a converging triangular pattern. A separate report suggests that as long as this pattern remains intact, the coin's price may persist in moving laterally over the coming days. This predicament leaves traders in a precarious position.
For traders with a bearish outlook on PEPE, the recent whale transaction may present an enticing opportunity. Some are considering the possibility of short-selling the coin, anticipating a potential breakdown. If this bearish sentiment takes hold, the report notes that PEPE's price could tumble by as much as 10%, potentially retesting the psychological support level at $0.0000007.
Insights And Speculation Abound
The sudden influx of PEPE coins into the market has raised several questions about its potential impact. The cryptocurrency market, known for its unpredictability, continues to offer intrigue and speculation, with events like Alleged Mattfurie's massive PEPE token exchange sparking intense discussions.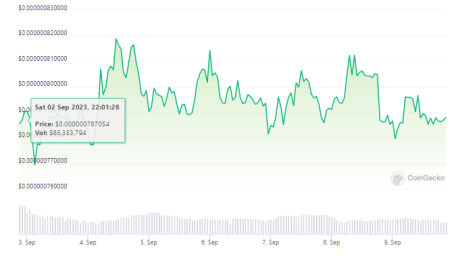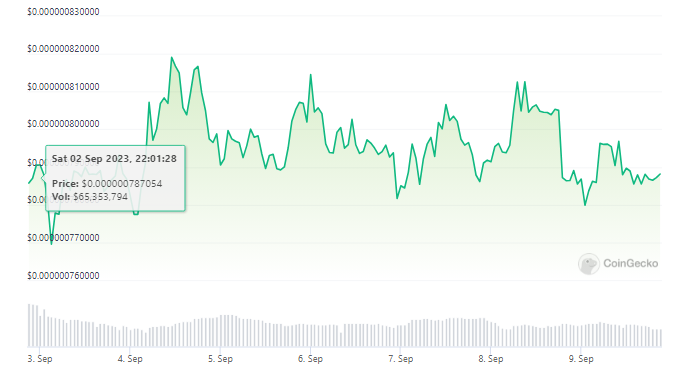 PEPE seven-day price action. Source: Coingecko
While some view it as a simple profit-taking move, others see it as a signal of larger market shifts. The meme coin space, in particular, thrives on such dramatic twists, and PEPE enthusiasts remain divided on the implications of this whale's actions.
In the world of cryptocurrency, where every move is scrutinized and analyzed, the PEPE whale's exchange of 726 billion tokens for Ethereum serves as a reminder of the volatility and excitement that come with these digital assets.
As PEPE continues to occupy a unique niche in the crypto landscape, observers and traders alike eagerly await the next chapter in this ever-evolving story.
(This site's content should not be construed as investment advice. Investing involves risk. When you invest, your capital is subject to risk).
Featured image from The Currency Analytics