The world of digital currency has brought some challenges to the Shiba Inu (SHIB) ecosystem. The ups and downs in this digital money landscape have caused the value of many coins connected to SHIB to drop, making things a bit shaky. But here's something good: the SHIB token burn is happening faster than before.
This means they're getting rid of more tokens, which is a positive thing. It's like a bright spot in the midst of all these changes, showing that there's something strong and good still happening in the SHIB world.
Based on the data provided by the Shibburn explorer, it is evident that the SHIB community has been effectively engaging in the process of burning substantial quantities of these meme coins, thereby transferring them to wallets that are rendered unspendable.
Shiba Inu: Optimism Amid Market Volatility
Even though the SHIB token has had some failures and its price has gone down, its burn rate has gone up by about 80% in the last 24 hours, according to Shibburn.
Today, the SHIB army has successfully facilitated the removal of around 350 million Shiba Inu meme coins, which were previously rendered inaccessible and excluded from circulation.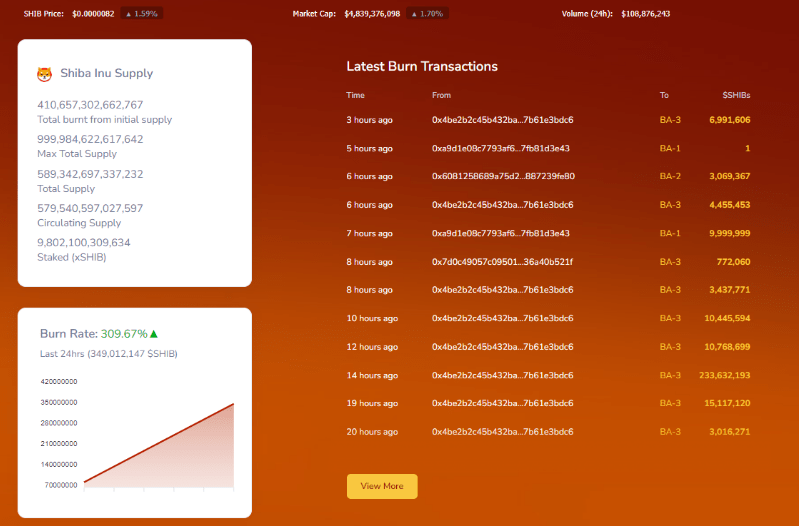 Source: Shibburn
Last week, over 1.84 billion SHIB tokens were burned in approximately 255 transitions, according to Shibburn. This reduced the weekly SHIB consumption rate by 38.76%.
It took 19 transfers for the community to successfully remove 349,012,147 SHIB during the course of the last 24 hours. Burns frequently involved two or three SHIB pieces and occurred virtually hourly.
Increasing Scarcity And Value
Burning tokens, or reducing the supply of a cryptocurrency, is a common practice in the blockchain and crypto communities. As the number of coins in circulation increases, both their demand and value tend to decrease.
This activity is considered a deliberate method to increasing scarcity, which may lead to an increase in the value of the remaining tokens. This strategy is especially significant for Shiba Inu because of their abundant starting supply.
SHIB market cap currently at $4.8 billion. Chart: TradingView.com
Meanwhile, as the Shibarium relaunch draws near, Lucie, a Shiba Inu team representative, has revealed some exciting news.
Lucie updates her followers on the status of Shibarium in a new tweet, letting them know that Shiba Inu Layer 2 is now operational and functioning well in private mode.
🚀 Exciting news from Shibarium (L2) update! 🎉

It's officially live and running smoothly in private mode. The team just needs to make it public, and rest assured, all funds are safe! 🔒

Some people have already received their bridged $BONE #ShibariumUpdate #Shibarium pic.twitter.com/yk5L1ELMch

— 𝐋𝐔𝐂𝐈𝐄 | Summer of Shibarium (@LucieSHIB) August 24, 2023
The enormous flood of users forced Shibarium to suspend soon after its launch on August 16. The group got to work right away scaling its operations and starting network deep testing.
SHIB price action today. Source: Coingecko
At the time of writing, SHIB was trading at $0.00000818, down 1.4% in the last 24 hours and sustaining a 3.8% loss in the last seven days, data from crypto market tracker Coingecko shows.
(This site's content should not be construed as investment advice. Investing involves risk. When you invest, your capital is subject to risk).
Featured image from Gothamist