Twitter's initial endeavor to implement a fee for verifying accounts with blue check marks resulted in a reportedly marked decrease in bots. Nevertheless, the persistent nuisance of fake Twitter accounts remains far from abating.
Twitter launched Twitter Blue, a subscription service priced at $8 per month. It was launched with the dual purpose of boosting the platform's revenue and making it financially unfeasible for bots and fake accounts to operate effectively. Despite these efforts, reports indicate that a significant proportion of followers from the most popular crypto accounts are still deceitful.
In a recent investigation DappGambl, a crypto platform, conducted an analysis on the same. They suspected that there is a correlation between the popularity of crypto tokens and the presence of fake followers in Twitter accounts.
Related Reading: Litecoin $100 Milestone Indicates Promising Bullish Trends – Here's Why
DappGambl examined the social sentiment associated with crypto accounts and it was discovered that as many as 10% of followers from the most followed crypto accounts were fake.
Fake Twitter Crypto Followers: Facts And Figures
When examining the official accounts of cryptocurrency tokens and ecosystems, it was found that Shiba Inu had the highest proportion of fake followers. These fake followers amounted to 10.26% or approximately 80,000 accounts.
Avalanche (AVAX) came in second place with 8.14% fake followers, and Polygon (MATIC) ranked third with 7.58% or around 73,000 fake accounts.
In addition, dappGambl's findings revealed that DAI is widely considered the most beloved and popular coin among Twitter users. On the other hand, XRP is often associated with scams.
Other notable figures also face the presence of fake followers on their Twitter accounts. Twitter co-founder Jack Dorsey reportedly has around 560,000 fake followers, accounting for 8.62% of his total follower count.
El Salvador President Nayib Bukele and Ethereum co-founder Vitalik Buterin apparently both have nearly 6.5% of their followers identified as fake.
Musk's Anti-Fraud Measures Fail To Tackle Fake Accounts
Among prominent figures in the crypto industry, Elon Musk, the CEO of Tesla, has around 4.76% fake followers on Twitter. Following closely is Michael Saylor, the co-founder of MicroStrategy, with approximately 6.16% fake followers.
Changpeng 'CZ' Zhao, the CEO of Binance, also has a significant presence of fake followers, accounting for around 5.58% of his total followers. These statistics underline the prevalence of fake followers among well-known individuals in the crypto space.
Despite Elon Musk's efforts to combat fake accounts, he is followed by over 6.7 million fake accounts, highlighting the persistence of the problem.
Various methods, such as examining account details and analyzing followers, can be used to identify fake accounts. Recently, the popular Twitter bot "Explain This Bob" was suspended after Musk called it a scam, emphasizing the ongoing challenges in tackling fake accounts on the platform.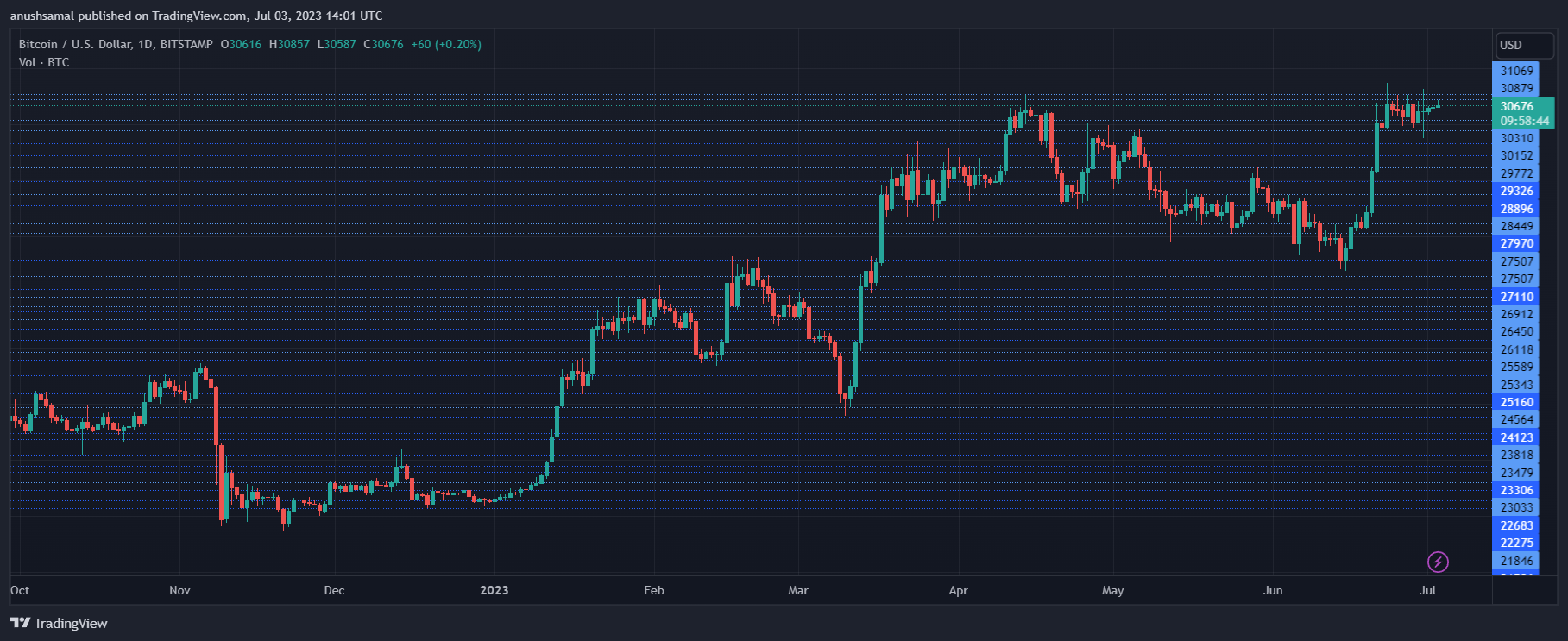 Featured image from UnSplash, chart from TradingView.com