After a shocking revelation by CEO Brian Armstrong, Coinbase, the Nasdaq-listed crypto exchange, saw its share price plummet by more than 10%. The reason: a controversial request from the US Securities and Exchange Commission (SEC) prior to the lawsuit against Coinbase. The SEC's demand? That Coinbase halts trading in all cryptocurrencies other than Bitcoin.
Brian Armstrong, Coinbase's CEO, revealed the SEC's absurd request in an exclusive interview with the Financial Times. "They came back to us, and they said . . . we believe every asset other than Bitcoin is a security," Armstrong said. "And, we said, well how are you coming to that conclusion, because that's not our interpretation of the law. Remarkably, the SEC answered, "we're not going to explain it to you, you need to delist every asset other than Bitcoin."
SEC Wanted To End The Entire US Crypto Industry
This unprecedented move by the SEC indicates an intent to assert regulatory authority over the entire altcoin market. The SEC's case against Coinbase identified 13 traded cryptocurrencies as securities, asserting that by offering them to customers, the exchange fell under the regulator's remit.
However, the SEC's request for Coinbase to delist over 200 tokens suggests a push for even wider authority over the crypto industry under the chairmanship of Gary Gensler.
Armstrong was quick to point out the potential implications of such a move. "If Coinbase had agreed, that could have set a precedent that would have left the vast majority of the American crypto businesses operating outside the law unless they registered with the commission," he said.
The CEO further added, "We really didn't have a choice at that point, delisting every asset other than Bitcoin, which by the way is not what the law says, would have essentially meant the end of the crypto industry in the US."
Coinbase (COIN) Plunges Following The News
In the wake of the news, the Coinbase share price (COIN) plummeted in an initial reaction by more than 10%, from $102.35 to $91.94. However, at press time, the price recovered somewhat and traded at $94.76.
The news may have been a shock for COIN investors, as the statement by Brian Armstrong reveals that the approach by the SEC is even harder and worse for the crypto industry (by naming all cryptocurrencies except BTC a security) However, it's important to note that it won't have any impact on the SEC-Coinbase lawsuit directly.
Thus, it's possible that this was an overreaction of the market. It's also worth noting that the upward trend in COIN's 1-day chart remains intact. The price has bounced upwards off the support level at $91.87.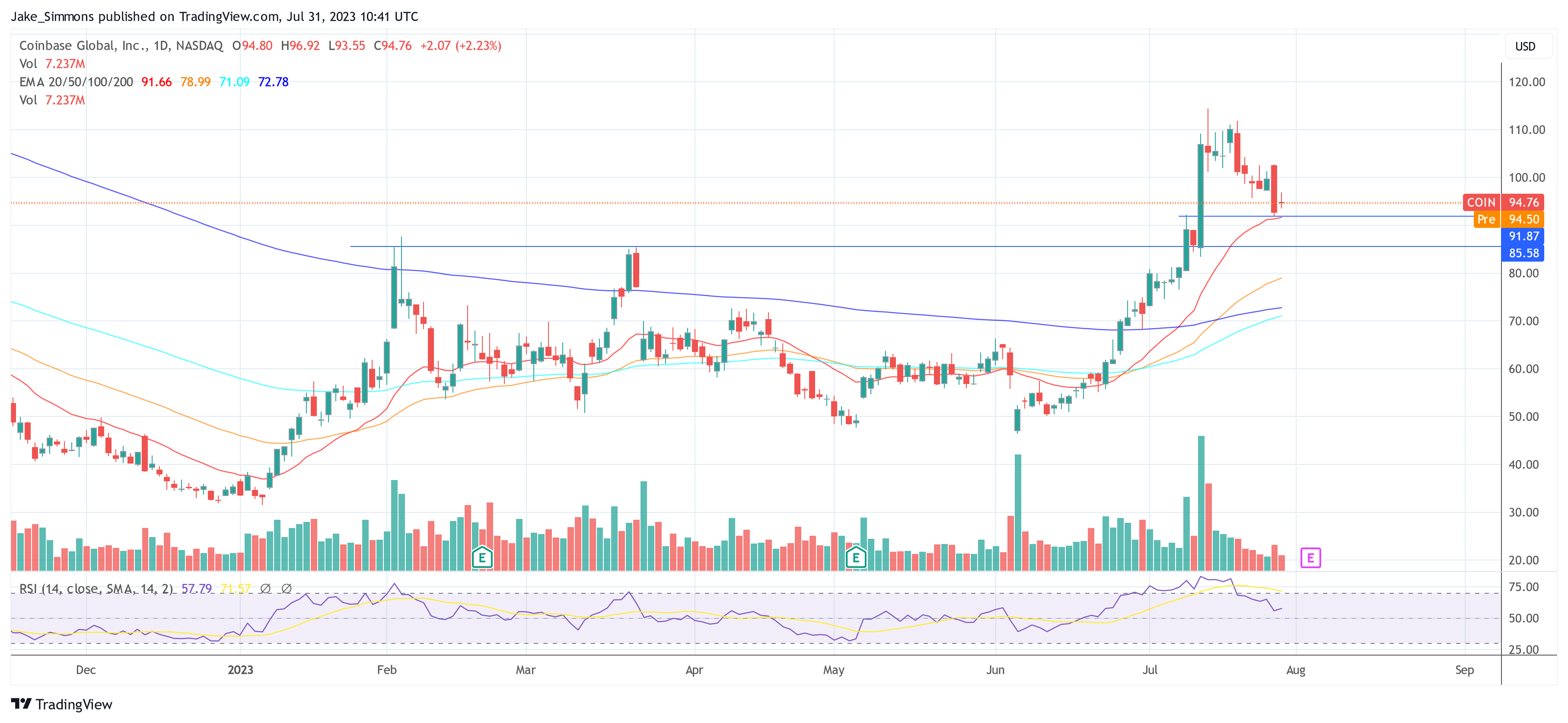 Featured image from Futurism, chart from TradingView.com